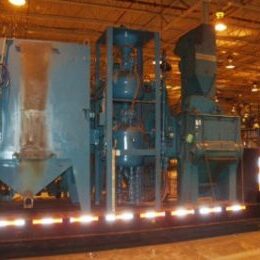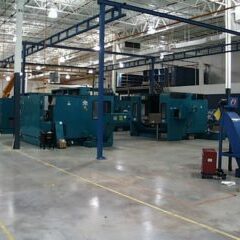 Jabezco Industrial Group, Inc. offers a variety of services to the manufacturing and industrial community. Our experienced staff of project managers, estimators, superintendents, and skilled craftspeople have the talent, initiative, and dedication to provide these services safely and effectively on a consistent basis to each and every client on each and every project we perform.
See our services below to learn more about the services we provide.
Turn-Key Plant Relocations
Jabezco can provide complete process and plant start-up or relocation services to your company when speed needs to be maximized and disruption minimized.
Our manufacturing experts at Jabezco can assist in all phases of your project, including feasibility analysis, facility requirements, process and plant design, turn-key plant relocation, equipment installation, including mechanical and electrical applications, and new process start-up and implementation.
Whether you have decided to relocate an entire plant or a single process line, Jabezco understands the importance of speed, accuracy, and attention to details, as our relocation experts will ensure that your project meets with a successful completion, offering your company effective solutions to impact your bottom line.
In-Plant Capital Projects
In many cases, plants have in-house capital projects that exceed their maintenance staff's availability and capabilities. In these cases, Jabezco is ready and available to assist your organization in executing these project needs. Whether the project is relatively small in scope or is a large capital project, Jabezco offers the flexibility, speed, and responsiveness to execute the job safely, within budget, and on time.
Supplemental Craft Projects
In many cases, due to personnel constraints, plants need to supplement their maintenance resources with external sources. In addition, due to today's tight labor market for experienced construction craft, many contractors, subcontractors, and engineering firms are unable to meet their field manpower requirements.
In either case, Jabezco, with its arsenal of experienced and qualified craftspeople, can assist you either by serving as or by supplementing your field labor workforce. Whether it be millwrights, pipefitters, welders, electricians or mechanics, Jabezco is ready and able to supply these needs.
Process Equipment Installations
We are experts in process equipment installations. We provide engineering and construction management services and install many different types of process equipment for manufacturing systems. Our services include manufacturing, fabricating, installation, assembling, erection, handling, maintenance, and repairing all types of industrial mechanical process equipment.
Material Handling Solutions
Jabezco has the ability to function as a turn-key systems integrator who can design, fabricate, procure, install, and support your material handling project needs. From technical support in the vital planning phase to physical installation of the system, Jabezco has the technical resources and affiliations necessary to support your organization's needs.
Whether your needs include an entire system design and installation or simply installation and configuration of a particular component, Jabezco will facilitate the process by serving as your single-source solution for all your material handling requirements.