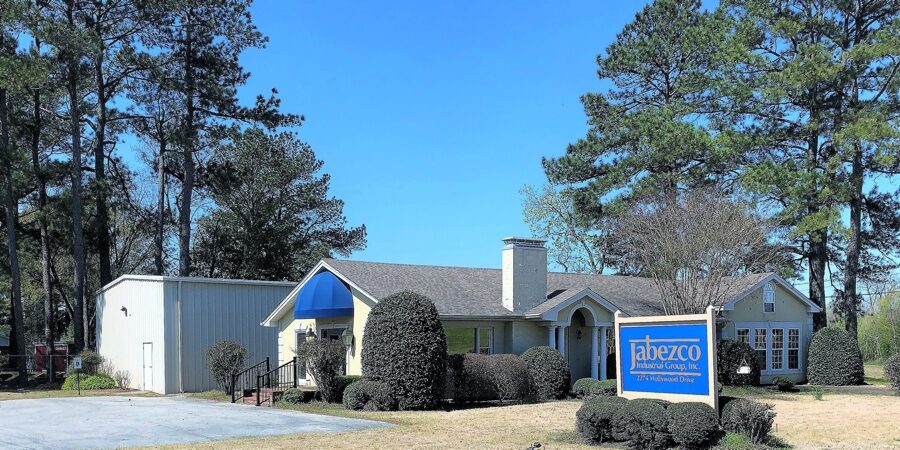 1 Chronicles 4:9-10
"Jabez was more honorable than his brothers; and his mother called his name Jabez, saying, "Because I bore him in pain." Jabez called upon the God of Israel, saying, "Oh that you would bless me and enlarge my border, and that your hand might be with me, and that you would keep me from harm so that it might not bring me pain!" And God granted what he asked.
History
The Story of Jabezco – How We Became
Jabezco Industrial Group, Inc. was formed in the summer of 2001 by four men with a dream who shared a common professional interest in construction, but more importantly, shared the same passion of creating a Christ-centered company that did business different than most.  The  principals formed Jabezco to be an industrial service provider specializing in industrial equipment installations and all support applications that are prerequisite for such installations.  By creating alliances with key engineering groups, Jabezco can also offer such services ranging from complete design services to lean manufacturing planning and implementation.  Thus, Jabezco is positioned to bring its clients a variety of professional services.
However, the real story is not what we do but who we are and what we are about.  The founders were introduced to each other as co-employees of a contractor in Jackson, Tennessee.  It was while employed with this company that these four, along with a couple of other employees, began a weekly Bible study and prayer group and they soon realized their unique bond and passion to serve our Lord.  It was also during this Bible study time the group was introduced to Jabez (I Chronicles 4:9-10), a descendant of Judah.  Jabez asked the Lord for four specific requests: to be blessed, to expand his territories, God's hand to be with him, and to keep him from harm.  And "God granted his request!"
After a series of corporate events and circumstances, it was evident this core group would not remain together and would most likely be split.  As a result, and upon what we felt as God's calling, the principals formed a new company.  At the very heart of our corporate identity are our requests:
to be blessed and for us to be a blessing to those with whom we come in contact
for our territory to be enlarged so that everyone who is involved with this company has the opportunity to see God
that God's hand be with us – our employees and their families – so as to guide, direct and lead our efforts
to be kept from harm – that is, our employees and their families would be kept safe both at work and away from work
As a result of this study and because of the value of these truths, the new company was named Jabezco Industrial Group, Inc.
OUR COMMITTMENTS
Jabezco is committed to our clients, our employees, our key alliances, and our suppliers.
To Our Clients … We recognize our clients are our life blood.  We are committed to providing solutions with value.  We are committed to safety, quality, economics, schedule, solutions, responsiveness, professionalism and ethics as we deliver these services.
To Our Employees … We recognize our employees ARE Jabezco.  We will strive to maintain a company that promotes family values, professional opportunities, financial security and a dynamic place to work where an employee's talents and skills can be maximized.  We will always remember that our employees are people first and employees second.
To Our Key Alliances … We recognize that strong relationships with other solution providers increase our value and support to our clients.  Our ultimate goal is to be receptive and responsive to opportunities that utilize others' talents and skills in providing solutions to our clients.
To Our Suppliers … We realize the significance our suppliers are to the equation of providing high quality services to our clients.  We will strive to adhere to the terms and conditions of contractual relationships so as to develop strong partnerships which strengthen our delivery system.
Value Principles – What We Are About
At the core of Jabezco's operations, the following value principles have been developed and implemented to guide and direct our employees in their everyday activities and decision making process.
Focus:    We are a Christ-centered company recognizing the ultimate importance of maintaining a personal relationship with Jesus Christ and asking God to expand our corporate territories, thereby allowing this message to be broadcast thru the employees of Jabezco.
People:  We will build solid and meaningful relationships of respect among ourselves, our clients, our suppliers, and our employees. We especially encourage and promote the growth and well being of each employee.  Our employees are people first and employees second.
Conduct:  We will conduct ourselves with dignity and maintain a high degree of professionalism in all our dealings.  We will adhere to the highest ethical and moral standards and will never compromise what is right for what is easy or most profitable.
Stewardship:  We will commit to being proper stewards of our resources and, as a result, will commit to tithe our pretax earnings to various community organizations based on need and passion.
Environment:  We will strive to create a work environment, both at the office and the jobsites, which is enjoyable, safe, progressive, dynamic and conducive to work, allowing all employees the opportunity to grow professionally, financially and spiritually.
Citizenship:  We will strive to be an active and supportive corporate citizen by finding civic opportunities for our employees and their families in which to serve and be active.   It is critical that our inward mission be externalized and put into action.
Safety is our top priority
It is the policy of this company to provide a safe and healthy workplace. As a member of this organization, you accept a moral obligation to fellow employees and an economical obligation to this company to see that the responsibilities placed in your care, custody, and control are carried out in an efficient and safe manner.
We at JABEZCO INDUSTRIAL GROUP are committed to our safety program to ensure that each and every person in this organization approach safety as a top priority in this Company. To make this approach uniform throughout our organization, we have written this program which outlines our policy and the commitment we expect from management, safety consultants, supervisors, and employees.
As an employee of this facility, you will be expected to abide by the safety rules of this company and to commit to providing a safe working environment for you and your fellow employees.

Pearson Safety Service
JABEZCO INDUSTRIAL GROUP is committed to providing employees with a safe and healthful workplace. It is the policy of this organization that employees report unsafe conditions and do not perform work tasks if the work is considered unsafe. Employees must report all accidents, injuries, and unsafe conditions to their supervisors. No such report will result in retaliation, penalty, or other disincentive. However, failure to report an accident, injury, or unsafe condition could result in disciplinary action up to and including termination.
Employee recommendations to improve safety and health conditions will be given thorough consideration by our management team. Similarly, management will take disciplinary action against an employee who willfully or repeatedly violates workplace safety rules. This action may include verbal or written reprimands and may ultimately result in termination of employment.
Safety Management begins with Top Management accepting the responsibility to provide visible support and involvement by:
Assigning safety responsibilities to individuals.
Communicating a clear goal for the safety program.
Commit the necessary personnel with enforcement authority and resources to ensure employee safety.
This program was developed by and assistance with the safety program is available from:
Pearson Safety Services
JACKSON, TN (731) 660-8863 FAX (731) 660-8044
MEMPHIS, TN (901) 373-2411 FAX (901) 373-2473
MURRAY, KY (270) 761-5021 FAX (731) 660-8044
TALLAHASSEE, FL (850) 290-8188 FAX (731) 660-8044